Truck Parts Service reviews SmartPTO and Partner Bergstrom.
Click the link below to read the article.
Fuel What Matters talks 2020 Clean Fuel Advanced Technology (CFAT) Project, Featuring SmartPTO in Durham, NC
Vehicle Service Pros Feature SmartPTO
Lift and Access Mentions SmartPTO as Featured Terex Product.
NCCETC Announces Duke Energy Adopting SmartPTO via CFAT
Duke Energy Tells Their SmartPTO Story
Duke Energy is one of the largest utility companies in the U.S. and one of a kind for having such a large fleet of utility trucks, so when we were asked earlier in the year to run a pilot testing period with SmartPTO on one of their utility trucks, we jumped at the opportunity. After months of collecting data which later culminated into a Pilot Report, on October 2, 2019 Duke Energy published this article outlining its purchase of 24 units, stating in the article,
"The pilot has proven so successful, Duke Energy will soon expand to 24 bucket trucks outfitted with SmartPTOs and is considering making them standard on all new bucket trucks."

"Compared to other plug-in electrics, this unit was quieter, more responsive and much simpler in design," said Mike Allison, Duke Energy's director of Fleet Design and Technical Services. "When we saw that, we thought this is a viable path to electrifying all of our bucket truck fleet."
Our relationship with Duke Energy remains a priority. We hope to see the standardization of SmartPTO spread throughout the market from the shoulders of the utility industry giant, cementing them into history as a proponent for the rise of clean technology throughout the utility fleet world.
Viatec is also in the heart of Duke Energy's Carolinas service area.

"That's an economic development opportunity, and that's a big part of our EV initiatives," said Lang Reynolds, Duke Energy's director of Electric Transportation. "We want to make sure our service areas are leading in this industry."
ICUEE 2019 in Review, Day 3
The ICUEE, North America's largest utility and construction trade show, is nothing short of a big
deal. On the final day of the three day event in October of 2019 we were able to cap off our time
there with conversations from many of the expo's participants and attendees. With industry
leaders like Versalift and Terex demoing SmartPTO as a standalone electrification solution for
their bucket trucks in a seamless fashion, we were able to show that the unit works flawlessly
alongside the best equipment in the business.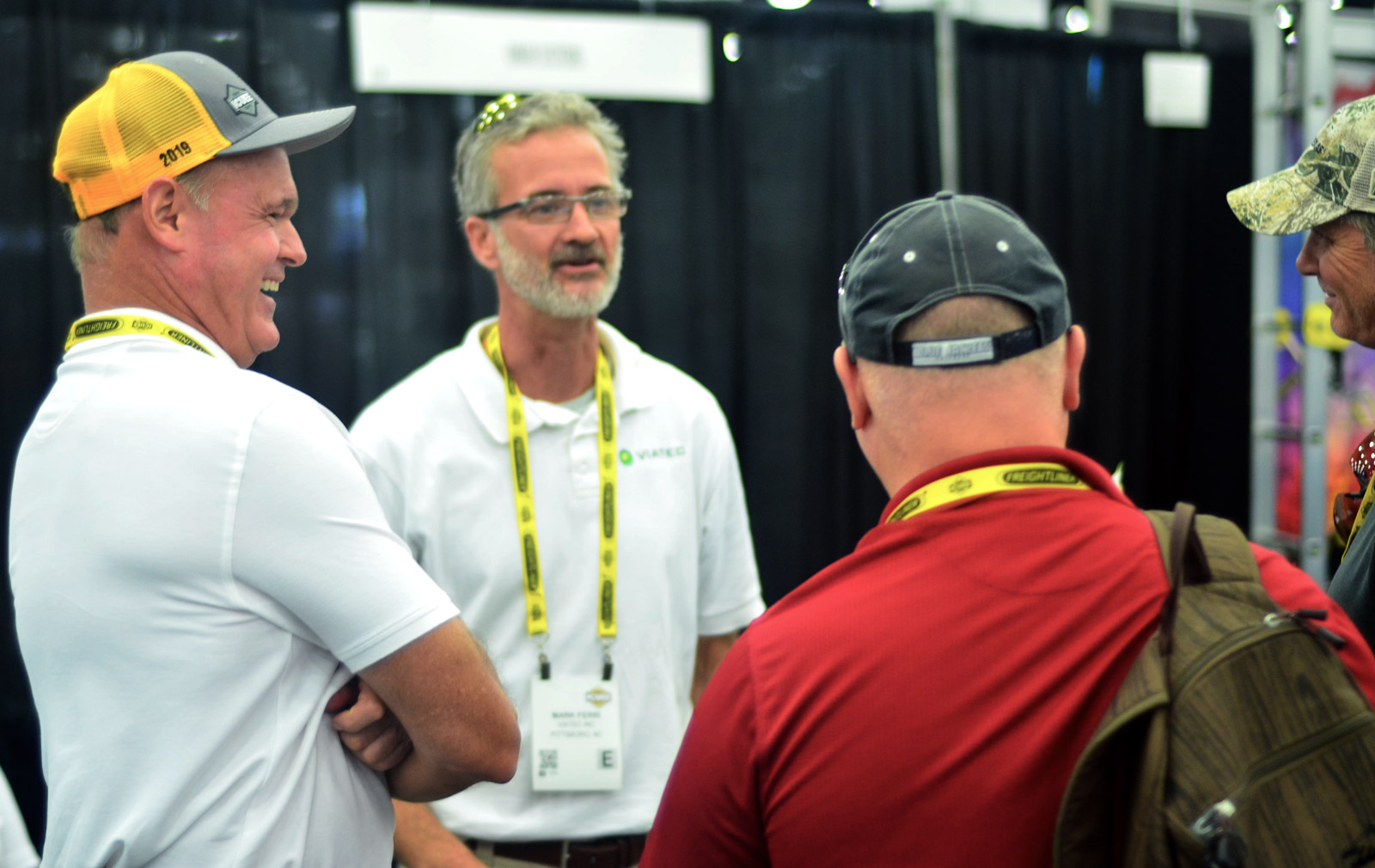 In March, MarketWatch stated that the bucket truck market was projected to exceed 1 Billion
U.S dollars by 2024. You can read their article on the subject here. This means that the threat of
increased emissions due to idling will only increase in the near future and the perfect time for
the industry to fully adopt standalone electrification solutions like SmartPTO is upon us. With
such a successful experience at ICUEE 2019, Viatec was able to demonstrate that our solution
is up to the task.
With tens of thousands of these vehicles in operation today and an increase in that number in
the next 5 years, Our mission is two-fold; working to retrofit current operational trucks in the field
while standardizing SmartPTO among new vehicles being pushed into the market. With
relationships galvanized by flying on Versalift and Terex trucks at ICUEE 2019, we are well on
our way to creating an environment in which SmartPTO is a typical add-on for bucket truck
manufacturers. After utility giant, Duke Energy announced their implementation of SmartPTO on
24 current trucks this year, and possible future standardization, our goals are quickly becoming
reality. You can read that announcement here.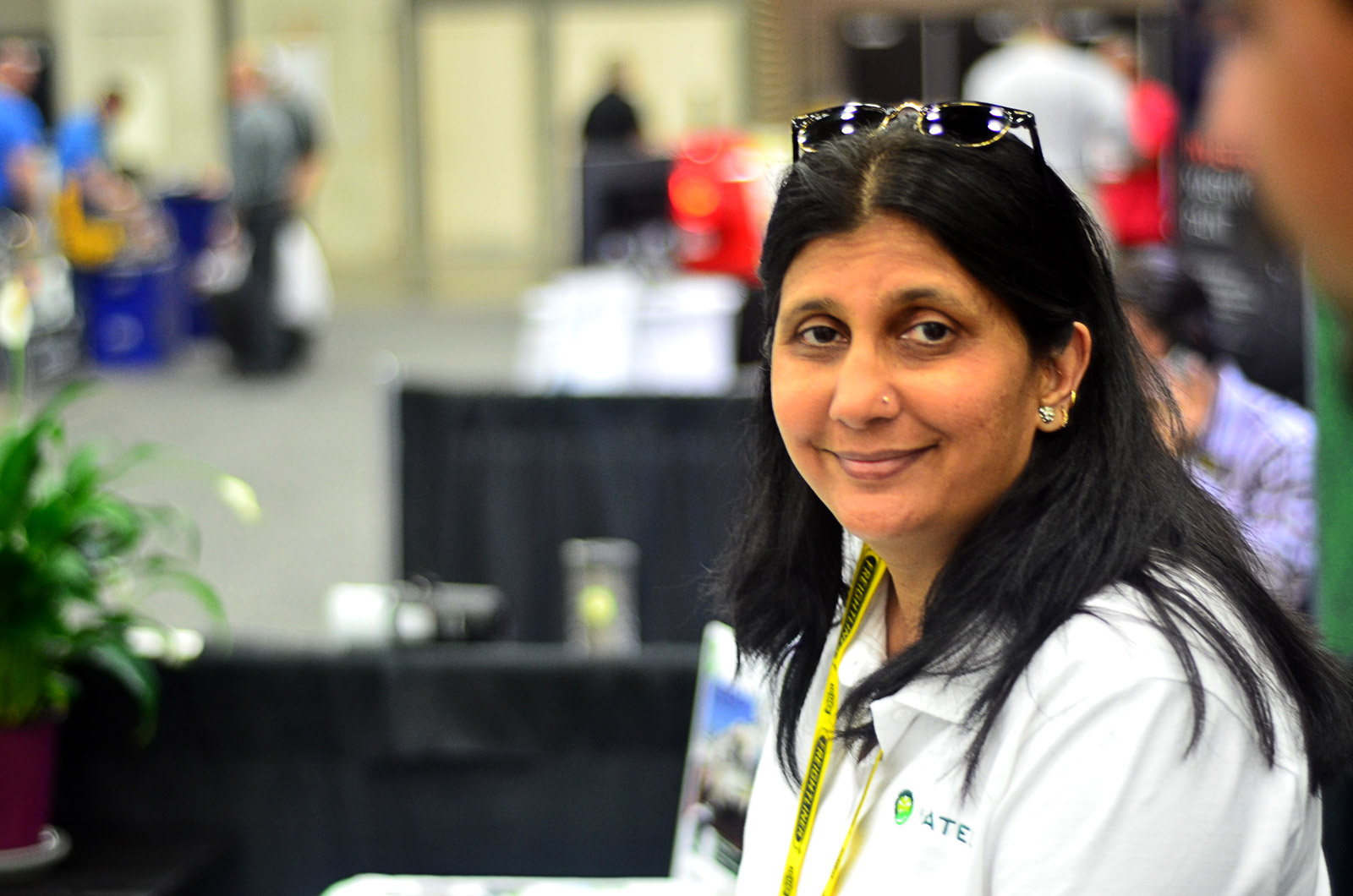 "ICUEE highlights a key landmark for Viatec Incorporated. It marks the first time our OEM
partners, Terex and Versalift, demonstrated SmartPTO to their primary audience across utility
and construction industries. And existing customers brought their peers to meet us during the
show thus our quote activity has increased substantially. Folks were pleasantly surprised to
learn over $100 million dollars were invested in development and testing the powertrain unit so
heavy duty cycling without need to plumb into the truck's cooling system is now a reality. The
expo also gave us a chance to speak with many organizations that are interested to retrofit
existing trucks – an industry first for ePTO's! We are delighted with the trajectory ICUEE helped
Viatec achieve."

-Mark Housley, Viatec Inc.
ICUEE 2019 in Review, Day 2
With day one behind us, we were even more prepared to engage with industry professionals at the 2019 ICUEE. While Sr. Engineer David Anderson headed up demonstration in the Versalift expo lot, Vice President of Design and Engineering, Neeraj Chirmulay, was delivering his expertise on a SmartPTO fitted to a Terex bucket truck among their demo fleet display outside. We were happy to partner with Terex to demonstrate the effectiveness of SmartPTO on their newest quality models and connect with professionals from among those interested in seeing what Terex had to offer the show.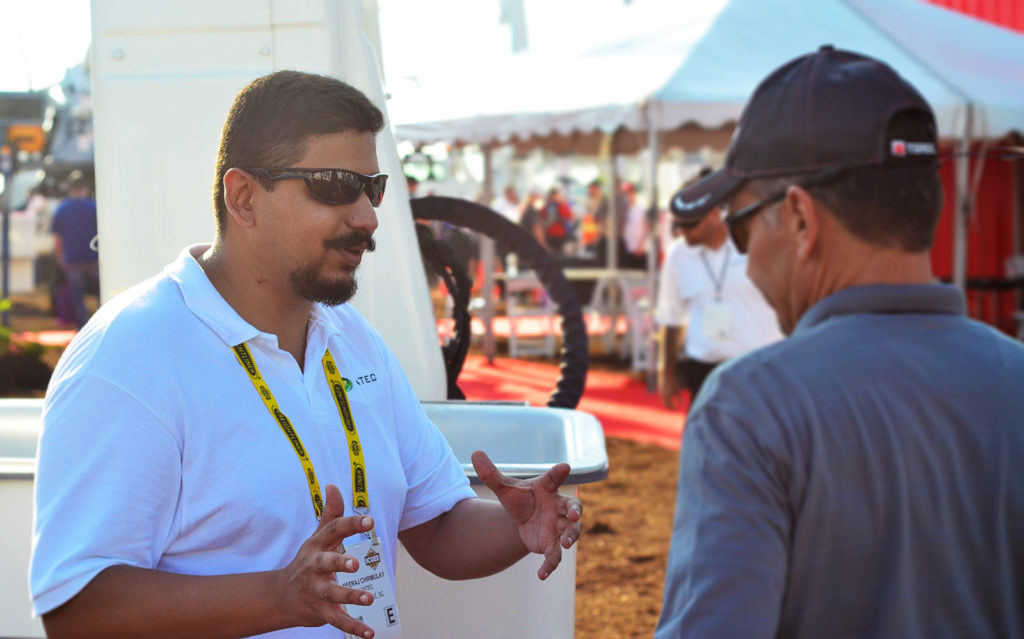 Terex Corporation is a global manufacturer of lifting and material processing products and services. They rolled out the red carpet with one of the larger lots at the event featuring many of their top of the line utility trucks. The bucket truck flying SmartPTO exemplified the power of third generation electrification paired with one of the industry leader's quality vehicles.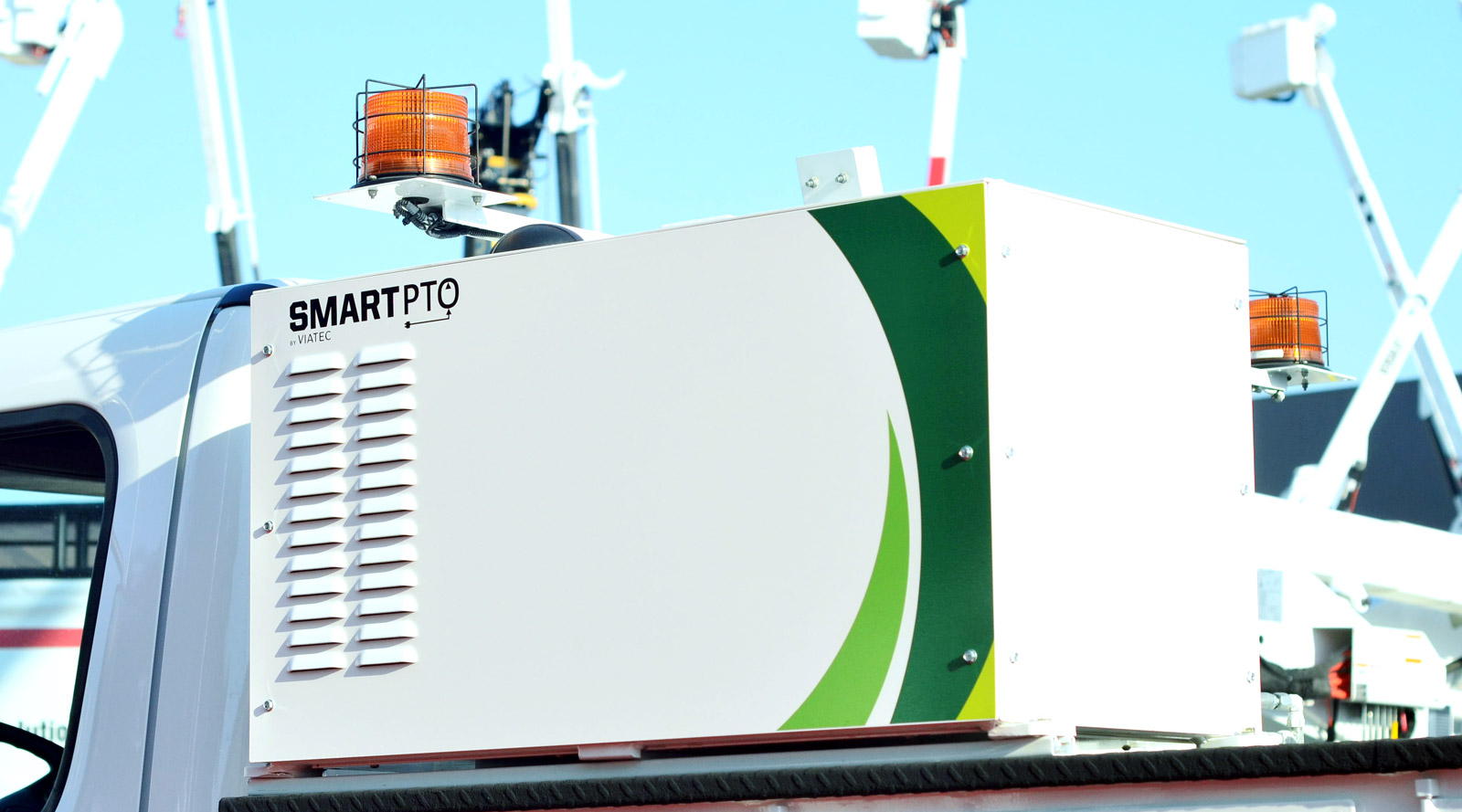 We look forward to adapting SmartPTO and the upcoming SmartPX with various utility products that manufacturers like Terex offers. With opportunities to electrify stepvans, digger derricks, and more as we continue to build these important relationships, we are pleased to show the 2019 ICUEE that SmartPTO is ready to be utilized as a standard for the industry.
ICUEE 2019 in Review, Day 1
Sprawling across 1.3 million square feet of Louisville's Kentucky Expo Center was the first day of the 2019 International Construction and Utility Equipment Exposition, or the ICUEE. Early Tuesday morning, alongside more than 1,000 other exhibitors from across the industry, Viatec showcased SmartPTO as the first third generation ePTO on the market. Both inside the expo building and out in the surprising 95 degree October heat, 19,000 attendees from the U.S., Canada, and 65 other countries sought out this year's innovations from October 1-3 at the event.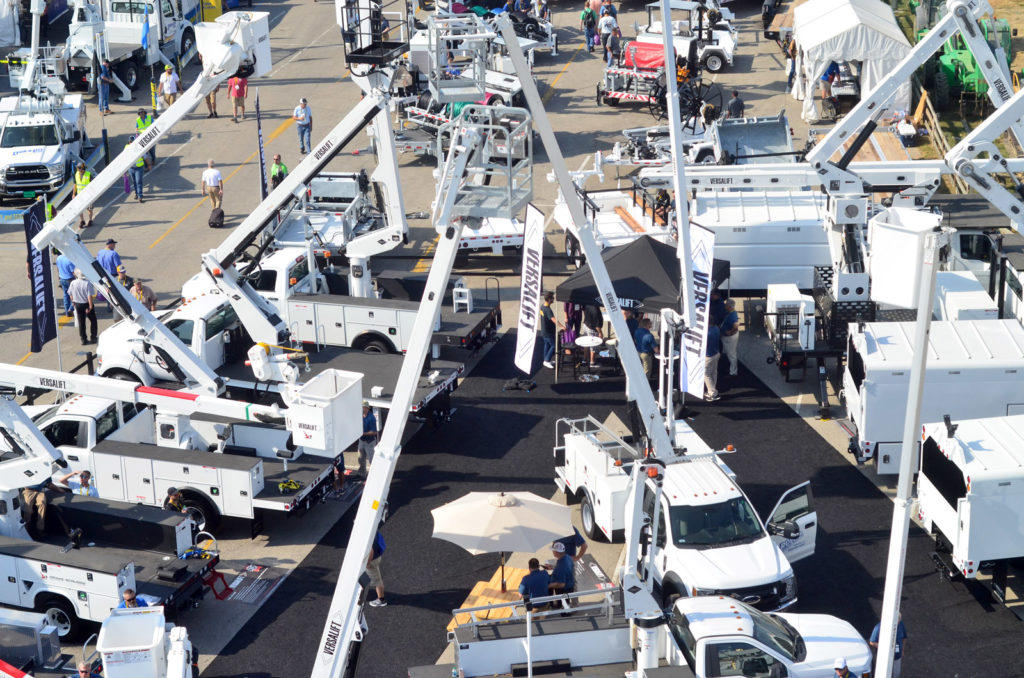 ICUEE being the largest trade show of its kind, we were excited to have three locations throughout the show, two of which were SmartPTO units being demonstrated at the large scale utility truck expo lots of Terex and Versalift. Each unit installed on a top of the line bucket truck from each manufacturer.
The Versalift lot was an impressive array of brand new top quality bucket trucks fitted with a range of aerial devices. The truck featuring our SmartPTO unit was sending attendees over 100 feet above the expo blacktop with near silent electric power. Fitted above the unit was Bergstrom's eCoolPark electrified HVAC solution, also being powered by SmartPTO to cool of the demo truck's cab in the Kentucky heat. We were proud to showcase our new partnership with Bergstrom as our exclusive cab comfort option on a beautiful Versalift bucket truck.
eCoolPark by Bergstrom is a perfect fit for a modular application like SmartPTO. Much like SmartPTO is attached directly into the hydraulics of the truck it serves, eCoolPack's HVAC technology plugs directly into the vehicles existing system, allowing for standalone operation.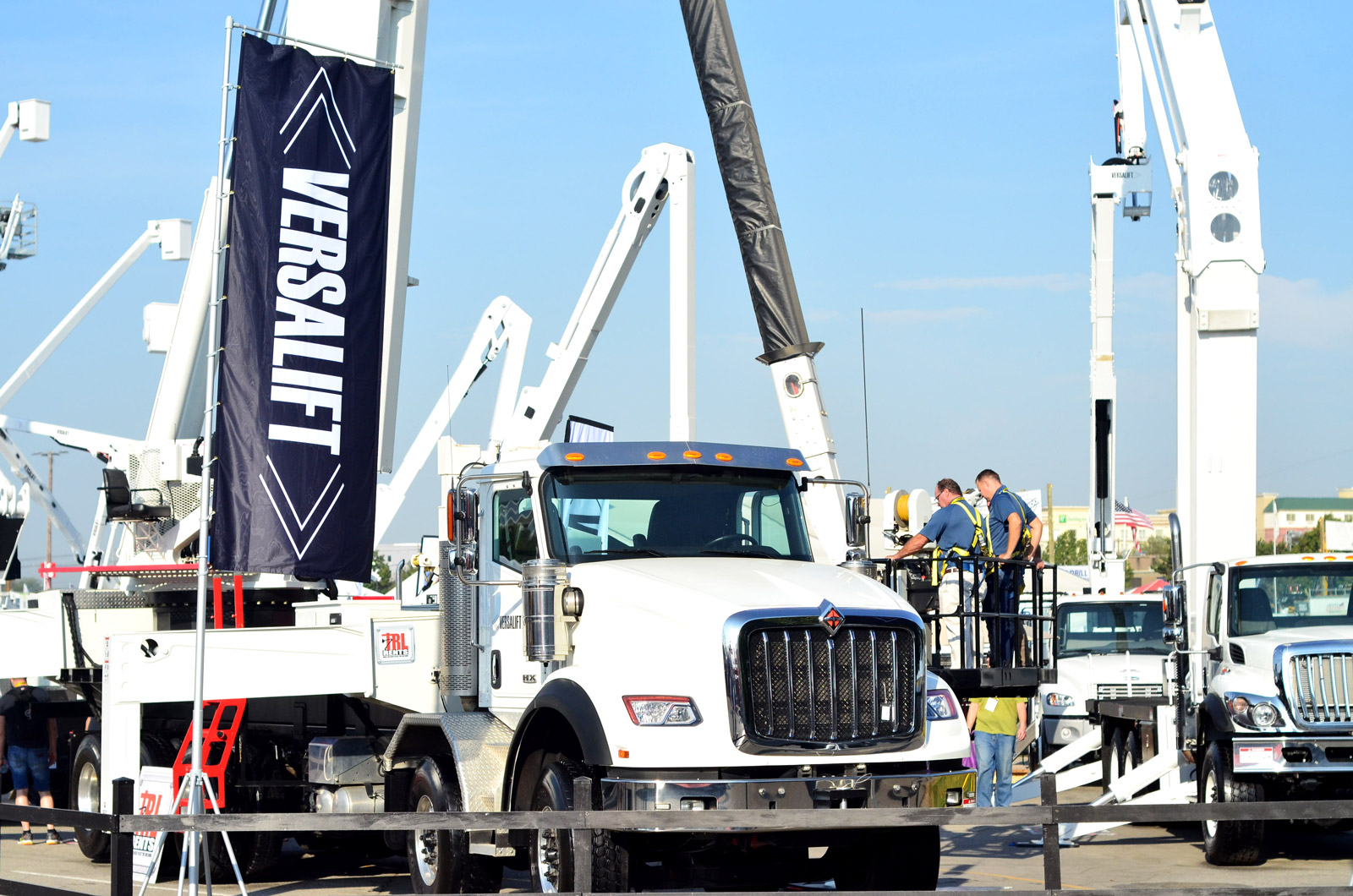 Out of Waco, TX, Versalift has been an innovative manufacturer of vehicle-mounted aerial lifts since 1965 across North America, Latin America and Europe. These quality machines were the perfect way to demonstrate SmartPTO in action.