Town of Apex, NC Installs Three SmartPTO Units
Early October of 2018, We were fortunate enough to be awarded the Clean Fuel Advanced Technology (CFAT) Project by the NC Clean Energy Technology Center (NCCETC). You can learn more on our write up.
Town of Apex Awarded CFAT project winner and Takes Action!
Now the Town of Apex in North Carolina has also been awarded by the NCCETC for it's use of electric PTO's and is making leaps toward the future by being the first of smaller municipalities to retrofit three of their bucket trucks with SmartPTO! All made possible by their recognition in the CFAT project.
You can read more from NCCETC on the Town of Apex and other winners of the CFAT here
In terms of environmental impact three utility trucks might not sound like much, but let's take a closer look at what Town of Apex will accomplish with three new SmartPTO units fitted on active trucks over a 1 year period…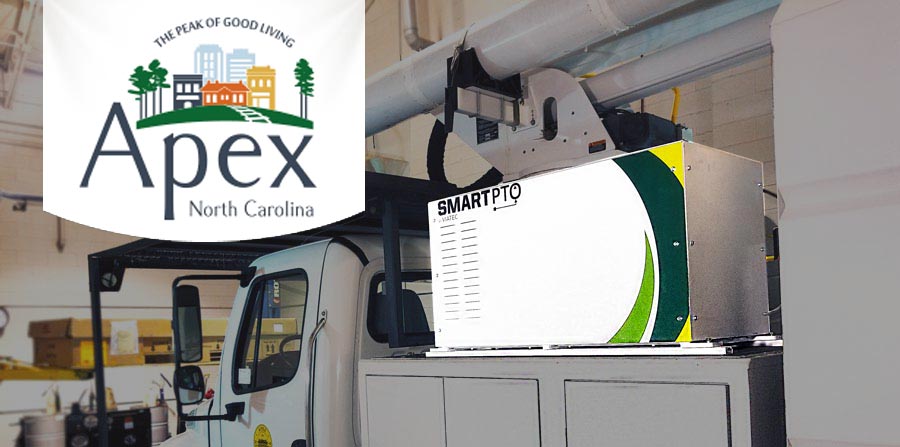 One Year with Three active SmartPTO units:
They will save around 

5,670 Gallons of fuel

.
Remove an average of

72,900 lbs of carbon dioxide emissions

from normal operation.
In terms of environmental impact, this is the

same as removing 10.5 cars from the road

.
Improve the safety of their operators.
Extend vehicle life and lower overall the maintenance cost.
Decrease the level of noise disturbance in their communities.
We see the Town of Apex as a progressive leader for the green initiative in the state of North Carolina. They are the first of many towns and cities in the state and nationwide that we hope to see making steps toward the electrification of utility vehicles and equipment. Together we can stop the harmful effects of idling.
Here's what NCCETC Had to say on Linkedin